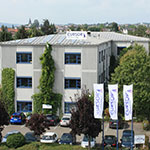 For 30 years, CURSOR Software AG has been one of the leading providers of software and consulting services in the fields of customer relationship management (CRM) and business process management (BPM). Currently, CURSOR employs a staff of more than 100. We offer you a comprehensive range of products and services from one source, including software development, consulting, software implementation, training and support. An outstanding characteristic of our solutions is their flexibility; industry-specific and individual requirements are mapped accurately, and your solution can be customized and adjusted at any time.
CURSOR's CRM solutions provide you with a central platform for information, communication, system integration and process management which can be used by all divisions (e.g. sales, marketing and customer service) and for all business processes (e.g. internal processes, partner and supplier management). You can access all of your required information in no time, and your CURSOR solution efficiently supports you in reaching corporate and divisional goals and in complying with legal requirements. Thanks to the Web Client and the CURSOR-App, you can access your CRM system worldwide via browser, smartphone and tablet.
An innovative and unique feature of CURSOR solutions is that they combine CRM and BPM in one system. This enables you to design and adapt processes flexibly – from the automation of standard processes that are needed on a daily basis (e.g. the interactive creation of an offer) to the modelling and redefinition of complex processes that go beyond corporate boundaries. Therefore, our customers profit from business processes which are tailored exactly to their needs.
Our customers come from various industries and sectors, including the energy industry (products: EVI for energy suppliers, municipal utility companies and energy service providers; TINA for grid operators), the banking and finance industries as well as service industries and the industrial sector (product: CURSOR-CRM). More than 25,000 users work with CURSOR solutions on a daily basis.
In the distribution segment, CURSOR markets IBM software in the fields of information management and business analytics as well as the corresponding consulting and support services for partner software houses (ISV, Independent Software Vendors).
CURSOR's wholly-owned subsidiary Nonne & Schneider Informationssysteme GmbH (NSI),a specialist for database-related software development, offers consulting and project planning services, training, support and service packages for IBM™ Informix. Additionally, NSI markets their programmes for software development: the RAD development tools REP, VisualREP, FIX/C und FIX/Win.