E-world 2017: Smart. Digital. Sustainable.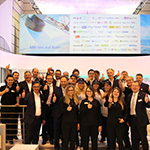 25.000 visitors, 710 exhibitors, three days and one conclusion – the E-world is 'the' meeting point for the energy industry in Europe. For CURSOR Software AG, the fair is a major event at the beginning of the year since with over 10.000 users, EVI and TINA are the leading CRM systems in the energy sector. Three terms were omnipresent in Essen: smart, digital and sustainable.
The CURSOR exhibition stand in hall 3 was a meeting place for even more visitors than last year. For Stefan Eschner, CURSOR's Chief Technology Officer, the success of a continuous further development becomes evident in customer quotes such as 'the CURSOR solutions EVI and TINA prepare us excellently for future market requirements' and 'the CURSOR team optimizes your solutions in a future-oriented manner'.
Smart-meter-rollout: satisfy private and business costumers
The new legal requirements affect grid management and energy distribution. Often, the concrete strategies are still in development, such as the new role of meter operators. 'There is more than just rollout management. Additional services help energy service providers satisfy private and business customers. The CURSOR-workshop 'meter operators'* on 23 March 2017 will provide clarification and we will demonstrate the optimal processes in EVI and TINA', Sales Director Andreas Lange summarizes.
Digitalization: Invitation to the SLP-customer-processes workshop
Jürgen Heidak, Chief Consulting Officer, emphasizes the optimization of SLP-processes: 'We live digitalization and learn how to use it to reach private persons more efficiently. EVI and TINA with their Multichannel-Marketing-Module are effective solutions for our customers for making attractive offers in the SLP sector. In the SLP workshop* on 22 March, we want to elaborate together with users how to digitalize the respective processes easily.' CURSOR not only offers tools for digitalization but also uses market solutions to approach customers. For example, you can find all CURSOR-brochures online in the eKIOSK. Information about CRM, brand-new modules or job advertisements can be accessed at any time via app for Android and iOS. At E-world, the biggest frameless screen of the fair presented CURSOR's messages in cinema format.
Integrations and new modules guarantee sustainability
Sustainability is present especially in the sector of renewable energies. However, aspects of sustainability should also be taken into account when choosing software solutions. 'Users and managers are thrilled when software remains up-to-date and flexibly adaptable to future requirements', CEO Thomas Rühl assesses the prospects. To achieve this, it is important to cooperate with specialized partners and to integrate their modules. CURSOR focuses on flexible CRM solutions with automation through BPM (Business Process Management). Additional functionalities can, for example, be integrated as a web service or module.
All current and future business areas in one CRM system
This way, one CRM system can cover all current and future business areas. Frank Peper, Managing Partner of ifs italia, explained this concept in his specialist presentation during the Italian evening at the CURSOR stand: 'The complex demands of the energy industry must not affect customers. It is important to satisfy customers easily and quickly while the software is managing the background processes.'
EVI and TINA are state-of-the-art solutions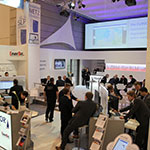 The 'CURSOR Innovation Hub', a platform where start-up companies can present their ideas, offered the visitors visions of the CRM future. The E-world was the ideal stage for the next generation of software components. 'It is great that young start-ups bring fresh ideas into the industry. We also continue to integrate new concepts into EVI and TINA; this keeps the applications up-to-date and future-proof', Chief Sales Officer Jürgen Topp concludes.
*Please note that all workshops are held in German.
Further information