Seal of Quality "Software Made in Germany" for CURSOR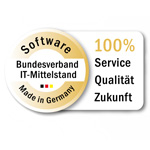 CURSOR-CRM has been awarded the quality seal SOFTWARE MADE IN GERMANY. Under the patronage of the Ministry of Economics and Technology, the Federal Association of ICT-SMEs of Germany (Bundesverband IT-Mittelstand e.V.) awards products that offer great practical applicability, superior quality, high investment security and first-class service.
The Criteria: Maximum Performance for the Customer
The Federal Association of ICT-SMEs of Germany evaluates software providers and products according to the following criteria:
100% Service
Should you have any questions, there is always a German-speaking contact person to get in touch with, and sales, service and training partners are locally available.*
100% Quality
The software is both designed and tested in Germany. A further aspect that is important for end users: programme interfaces and manuals are multilingual (including German).
100% Future
German software has a high investment security. The compatibility of your programmes and data is ensured also for the future. In addition, the further development of the software is contractually guaranteed.
*Of course, we are also happy to answer your questions in English. Furthermore, we have partners in Italy and Slovenia who are glad to assist you.
Further Information:
Bundesverband IT-Mittelstand...