CRM Congress: 250 visitors experience successful Customer Relationship Management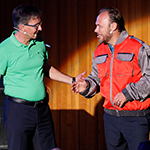 At the CRM Congress 2017 in Giessen, Germany on 19 and 20 October, visitors were taken on a surprising time travel journey. By means of the famous DeLorean from the movie Back to the Future, guests from seven countries were guided through the past three decades.
The congress celebrated CURSOR's 30th anniversary with famous congratulators such as the Hessian Minister President Volker Bouffier and Giessen's mayor Gerda Weigel-Greilich.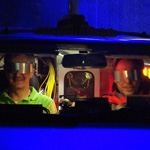 The programme of the two-day congress started and ended with a highlight. CURSOR had announced to begin with a presentation by company-founder and CEO Thomas Ruehl and his Managing Board-colleague Juergen Topp. However, this was only part of the truth. As a surprise, the visitors experienced a time travel journey lead by Sales Director Andreas Lange and the Managing Board members Stefan-Markus Eschner and Juergen Heidak. Congratulations to the long-time customers Abicor Binzel and Landesbank Hessen-Thueringen were integrated into entertaining reviews of the founding year 1987 as well as the years 1997 and 2007.
Examples from practice offer new perspectives
The pleasant mixture of time travel elements and innovations of CURSOR's CRM solutions – such as the voice control function – fascinated the guests. The advantages of the group-wide use of CURSOR-CRM were outlined by Michael Futterer, IT director of WISAG, together with Thomas Ruehl. WISAG, with its headquarters in Frankfurt, is one of the leading German service companies in the sectors facility management, industry and aviation. Lawyer Jens-Oliver Mueller described how the European General Data Protection Regulation (GDPR) my turn into an apocalypse if companies do not properly respect legal requirements. Afterwards, energy provider meistro Energie GmbH's CEO Mike Frank and IT Director Manuel Fernandes outlined authentically how their company benefits from CURSOR's CRM solution EVI in the daily business.
'Simplify your life' and multi-media show
Another highlight was the presentation 'Simplify your life' by bestselling author Werner Tiki Kuestenmacher who provided humorous and live-drawn tips for a simple and happy life. In the evening, CURSOR's anniversary party attracted congress visitors, business partners as well as CURSOR's staff. A multi-media show presented the musical highlights of the last three decades.
Workshops foster interaction
On the second congress day, visitors could choose between five different workshops. 'Design Thinking' creatively pondered the wishes and ideas for a future customer relationship management. The workshops 'Private Customer Business Processes', 'Analytical CRM', 'Complaint Management' and 'Association Management' offered room for interaction between experts. The CRM-marketplace with 21 selected partners who presented their solutions complemented the two-day congress.
Visitors look forward to next year's congress
Next year's CRM Congress will take place in Giessen on 18 and 19 October 2018. Frank Roth from DB Energie states: 'The CRM Congress 2017 was amazing – just like the congresses in the previous years. I am happy to come back next year.' Dieter Johns from TeleSon Vertriebs GmbH particularly appreciates the room for interaction: 'Besides the software highlights that were presented, I find the discussions between visitors very interesting. They show you other perspectives on CRM use and help you to overcome your own limits.'